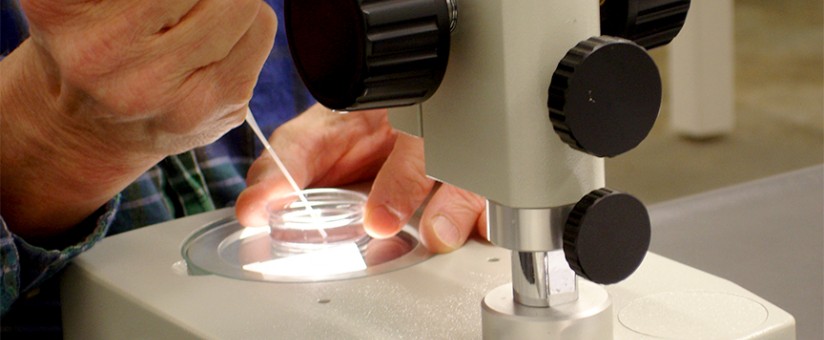 ---
NOTICE : To protect the health of our employees, their families, and our patrons, Agtech requires ALL individuals who enter our facility to be FULLY VACCINATED against COVID-19.
By purchasing this class, you agree to provide Agtech a high-quality, scanned, color image (front and back) of your completed, official C.D.C. COVID-19 vaccination card to records@agtechinc.com no later than FOUR weeks prior to class start date. Failure to provide this documentation at least FOUR weeks prior to class start date will result in your class cancellation and no refund.
---
The staff at Agtech is proud to offer this 3-day / 26-hours comprehensive, hands-on instruction in embryo transfer.
Our embryo transfer class is designed specifically for dairymen or ranchers wanting to perform embryo transfer on their cattle. Agtech's detailed course also provides large animal veterinarians with the knowledge and skills essential for successfully incorporating embryo transfer service into their practice. Upon completion, participants will have the knowledge and confidence necessary to perform embryo transfer. 
Class Details
Class Dates
November 30 - December 2, 2021
---
Students will directly palpate synchronized cattle to learn how to isolate ovaries and identify ovarian structures. Live animals are also used for practice in catheter placement and fluid recovery. You will be provided with five "donors" on which to learn embryo collection procedures. The donors will expose you to all embryo stages commonly encountered in a commercial embryo transfer environment. Agtech also provides you with hundreds of good quality IVF "practice" embryos allowing extensive manipulation, grading and freezing practice. Microscopes and freezers used in the class are brand new and state-of-the-art.
Prerequisite: Students must be experienced and competent in cattle artificial insemination; a minimum of 300-400 breeding services per year.
Graduates of the class can potentially receive 26 continuing education hours. 
All classes are held in our climate-controlled Reproduction Education Center in Manhattan, Kansas. 
What You Will Learn
How to flush, search, manipulate and classify embryos.
Procedure for loading embryos into straws for freezing or transfer.
How to freeze, thaw and transfer embryos.
Synchronization & Donor/Recipient management.
Proper completion of embryo transfer paperwork and documentation using IETS guidelines.
About the Instructor
John Curtis, Ph.D. is the president and founder of Agtech, Inc. He has been involved with bovine embryo transfer since 1979 and has extensive experience in commercial embryo transfer. Dr. Curtis has instructed embryo transfer classes since 1989.
ABOUT THE FACILITY
Agtech's Reproduction Education Center in Manhattan, Kansas is a state-of-the-art training facility that provides the ideal location for classes year-round. The facility is climate controlled and includes an embryology lab and indoor palpation stalls.
The embryology lab has been designed to allow you to learn the techniques hands-on while watching the instructor perform the same techniques.
The palpation stalls provide a secure enclosed structure with ample room for you to work with our on-site cattle. All techniques learned are hands-on and you will work with a variety of cattle.
Our casual classroom atmosphere encourages questions and open discussion. Cost is $3500. Does not include transportation or hotel, but lunch is provided each day.
---