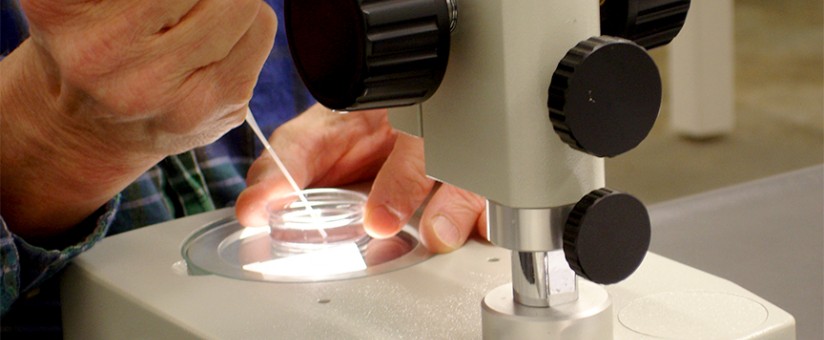 Agtech's intensive 3-day course is comprehensive, hands-on instruction in embryo transfer technology. Workshop is designed for large animal and mixed-practice veterinarians who wish to add MOET services to their practice.  The class is also intended for dairy cattle breeders or ranchers who would like to perform embryo transfer on their own cattle. Upon completion of the workshop, participants will have knowledge and confidence necessary to schedule and perform traditional embryo transfer procedures. 
2022 Class Dates
Course Highlights
Students will palpate synchronized cattle to learn how to isolate ovaries and identify ovarian structures. Live animals are also used for practice in catheter placement, embryo collection and transfer technique, extensive manipulation, grading and freezing practice. Throughout the workshop you will be exposed to all embryo stages commonly encountered in a commercial embryo transfer environment. Instruments used during class (scope, freezer) and consumables are exactly what you would use in commercial ET.
Graduates of the class can potentially receive 22 continuing education hours. 
All classes are held in our climate-controlled Reproduction Education Center in Manhattan, Kansas. 
What You Will Learn
How to flush, search, manipulate and classify embryos
Procedure for loading embryos into straws for freezing or transfer
How to freeze, thaw and transfer embryos
Synchronization & Donor/Recipient management
Proper completion of embryo transfer paperwork and documentation using IETS guidelines
Tuition
$3500 is due 45 days prior to start of class and includes all materials for the course and lunch each day.
Class Size
Limited to 4 students maximum, 3 minimum
Previous Experience
Student must be experienced and competent in cattle artificial insemination, having performed at least 200 insemination procedures during the past year. 
About the Instructor
John Curtis, PhD is the president and founder of Agtech, Inc. He has been involved with commercial cattle embryo transfer service and training since 1979 and has provided hands-on ET training to more than 500 veterinarians and cattle breeders over the years.
---
Notice of COVID-19 Policy for Agtech Workshops
As part of our continued commitment to maintaining a safe and healthy workplace and training center, Agtech is taking additional measures to protect staff and workshop attendees from potentially contracting or spreading COVID-19.  
If you are registered for a class, then no less than 2 days before class begins you must email ONE of the following two documents to records@agtechinc.com.  
(1) CERTIFICATE of Covid-19 Vaccination: No less than 2 days before class begins, email a clear photo (or scanned copy) of your certificate of being fully vaccinated against Covid-19 to records@agtechinc.com. You are considered fully vaccinated:
2 weeks (14 days) after your dose of an accepted single-dose vaccine, or 
2 weeks (14 days) after your second dose of an accepted 2-dose series
(2) CERTIFICATE of Negative Covid-19 Test: No less than 2 days before class begins, email a clear photo (or scanned copy) of your lab-confirmed, negative PCR COVID-19 test results to records@agtechinc.com, with the test taken no more than 3 days before class begins. Example: Test Friday, email negative certificate Friday or Saturday, class begins Monday.
Self-administered "home" antigen test kit results are not acceptable.
CONFIRM:  Please email records@agtechinc.com several days before class to obtain confirmation that Agtech received your certificate.
Failure to provide the requested documentation timely will result in cancellation of your registration and no tuition refund.
---
---