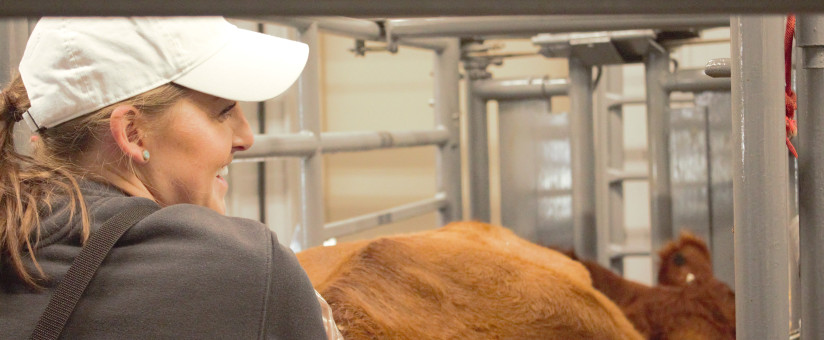 Agtech's focused 1.5-day (12 hour) course delivers comprehensive, hands-on instruction in "best practices" for transferring frozen/thawed IVF & MOET- produced cattle embryos. The workshop is designed for large animal or mixed-practice veterinarians and dairy or beef cattle breeders, who intend to receive and transfer frozen embryos produced through IVF or MOET.
2022 Class Dates
September 26 - 27
October 31 - November 1
November 28 - 29
What You Will Learn
How to manipulate the uterine horns and ovaries
Best location to deposit the embryo, and how to accomplish that objective
How to thaw embryos frozen previously via controlled rate methodology
Procedures for thawing, loading and "safe-keeping" embryos prior to transfer
Which recipient heat dates match best for IVF, and for MOET embryos
Which recipient heat dates match best based on embryo stage of development
Understanding the information recorded on the "Embryo Freezing" form
Proper completion of embryo transfer paperwork and documentation using IETS guidelines
NOTE: All instruction is conducted inside Agtech's climate-controlled Reproduction Education Center in Manhattan, Kansas.
Tuition
$1500 is due 45 days prior to start of class and includes all materials for the course and lunch each day.
Class is from 8:00am – 5pm (1pm on final day) and a list of suggested hotels will be provided upon registration receipt. Manhattan's regional airport (MHK) offers daily direct jet service to/from Chicago (ORD) and Dallas (DFW) airports via American Airlines. Agtech's training center is conveniently located 15 minutes from Manhattan's airport.
Class Size
Limited to 6 students maximum, 4 minimum
Previous Experience
Students must be experienced and competent in cattle artificial insemination, having performed at least 200 insemination procedures during the past year.
About the Instructor
John Curtis, PhD is the president and founder of Agtech, Inc. He has been involved with commercial cattle embryo transfer service and training since 1979 and has provided hands-on ET training to more than 500 veterinarians and cattle breeders over the years.
---
Notice of COVID-19 Policy for Agtech Workshops
As part of our continued commitment to maintaining a safe and healthy workplace and training center, Agtech is taking additional measures to protect staff and workshop attendees from potentially contracting or spreading COVID-19.  
If you are registered for a class, then no less than 2 days before class begins you must email ONE of the following two documents to records@agtechinc.com.  
(1) CERTIFICATE of COVID-19 Vaccination : No less than 2 days before class begins, email a clear photo (or scanned copy) of your C.D.C. COVID-19 vaccination certificate indicating you are up-to-date with your Covid-19 vaccinations to records@agtechinc.com.
You are considered up-to-date when you have received all doses in the COVID-19 primary series plus all boosters recommended for you, when eligible. This CDC link provides specific detail.
(2) CERTIFICATE of Negative COVID-19 PCR Test : No less than 2 days before class begins, email a clear photo (or scanned copy) of your lab-confirmed, negative PCR COVID-19 test result to records@agtechinc.com, with the test taken no more than 3 days before class begins. Example: Test Friday, email negative certificate Friday or Saturday, class begins Monday. If the PCR test result sent to us 2 days before class is positive, enrollment rolls to the next available class date which works for the student and Agtech. Fees are not refundable.
Self-administered "home" antigen test kit results are not acceptable to meet requirement (2) listed above ; your test result must be from a PCR test.
CONFIRM:  Please email records@agtechinc.com several days before class to obtain confirmation that Agtech received your certificate.
Please understand that failure to provide the requested documentation timely will result in cancellation of your registration and no tuition refund.
---
---