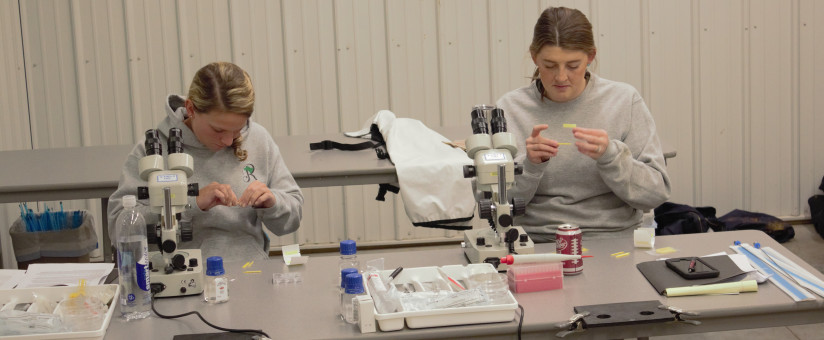 TRAINING FACILITY
Since 1990 we have been helping veterinarians, beef and dairy cattle breeders succeed by sharing our expertise in livestock reproduction technologies. We are pleased to offer five intensive seminars to help participants achieve their cattle reproduction objectives. At Agtech, we believe that "Success Transfers". Begin your path to success with our highly qualified instructors.
Agtech's Reproduction Education Center in Manhattan, Kansas is an indoor, climate-controlled training facility that provides an ideal environment for classes year-round. The embryology lab has been designed so you can learn techniques hands-on while also watching the instructor perform the same procedures.
Palpation stalls provide a secure, enclosed structure with ample room to work with our resident cattle, and the casual lab classroom atmosphere encourages questions and open discussion. The facility also features Agtech's commercial inventory of equipment and consumables commonly used for MOET, OPU, IVF and AI procedures. At the conclusion of class, you can purchase supplies or instruments and take them with you, or they can be shipped to your designated address.
View our training facility pictures here.
---
Ovum Pick-Up (OPU)
Agtech's in-depth 2-day course in ovum pick-up (OPU) provides you with a foundation of knowledge and hands-on skills for successful implementation of oocyte aspiration within your own dairy or beef herd, or to offer OPU services to your clients.
---
In-Vitro Fertilization (IVF)
Does the scale of your commercial OPU service have you considering your own in-clinic IVF lab? Perhaps your 500+ beef cow operation, or your 1000+ cow dairy would like to control all aspects of its IVF program. Is your private research or university institution considering grant opportunities to fund IVF training and equipment?
Agtech's 3-day IVF course features the highly popular IVF Bioscience media suite and its lab training protocol, which provides a solid foundation in the skills and techniques needed to establish a successful animal IVF laboratory.
---
Agtech's 3-day concentrated, hands-on embryo transfer course provides students foundational knowledge and up-to-date techniques required to successfully implement embryo transfer into a herd. Be successful and profitable by adding cattle embryo transfer to your managed reproduction program! 
---
Does your practice not offer MOET or OPU services however your clients are asking you to thaw and transfer embryos they received from a satellite IVF lab? Perhaps the distant location of your ranch or dairy makes it inconvenient (& costly) for the transfer technician to come out just to thaw and transfer 3 embryos. If you are AI-skilled, then you should consider Agtech's course in transferring frozen IVF or MOET embryos.
---
Would you like to add artificial insemination to your cattle reproduction management program? While some AI courses require 4-5 days to complete, Agtech's intensive AI class will instill the confidence and knowledge to succeed over 2 days. This efficiency is accomplished through small class size, an all-indoor facility, and a professional, commercial AI instructor who is enthusiastic about your success.
---
---