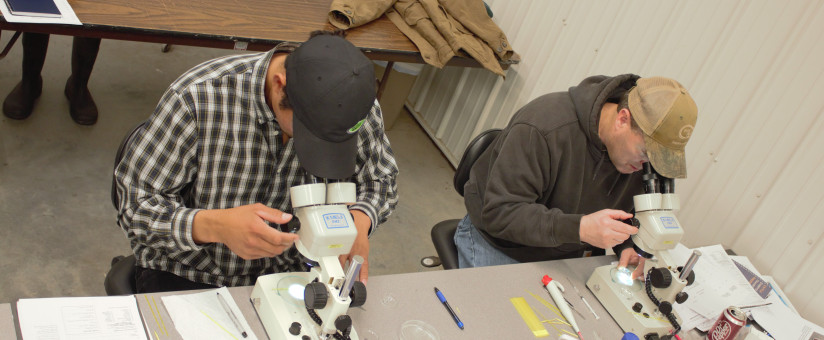 Agtech's intensive 3-day course is comprehensive, hands-on instruction in embryo transfer technology. Workshop is designed for large animal and mixed-practice veterinarians who wish to add MOET services to their practice.  The class is also intended for dairy cattle breeders or ranchers who would like to perform embryo transfer on their own cattle. Upon completion of the workshop, participants will have knowledge and confidence necessary to schedule and perform traditional embryo transfer procedures. 
2023 Class Dates
To be determined. Please complete the Inquiry Form below or chat with us for more details!
Course Highlights
Students will palpate synchronized cattle to learn how to isolate ovaries and identify ovarian structures. Live animals are also used for practice in catheter placement, embryo collection and transfer technique, extensive manipulation, grading and freezing practice. Throughout the workshop you will be exposed to all embryo stages commonly encountered in a commercial embryo transfer environment. Instruments used during class (scope, freezer) and consumables are exactly what you would use in commercial ET.
Graduates of the class can potentially receive 22 continuing education hours. 
All classes are held in our climate-controlled Reproduction Education Center in Manhattan, Kansas. 
What You Will Learn
How to flush, search, manipulate and classify embryos
Procedure for loading embryos into straws for freezing or transfer
How to freeze, thaw and transfer embryos
Synchronization & Donor/Recipient management
Proper completion of embryo transfer paperwork and documentation using IETS guidelines
NOTE: All instruction is conducted inside Agtech's climate-controlled Reproduction Education Center in Manhattan, Kansas.
Tuition
$3900 is due 30 days prior to start of class and includes all materials for the course and lunch each day.
Class Size
Limited to 4 students maximum, 3 minimum
Previous Experience
Student must be experienced and competent in cattle artificial insemination, having performed at least 200 insemination procedures during the past year. 
About the Instructor
John Curtis, PhD is the president and founder of Agtech, Inc. He has been involved with commercial cattle embryo transfer service and training since 1979 and has provided hands-on ET training to more than 500 veterinarians and cattle breeders over the years.
---
Notice of COVID-19 Policy for Agtech Workshops
Agtech is committed to maintaining a safe and healthy workplace and training center. This includes measures and policy which help protect staff and workshop attendees from potentially contracting or spreading COVID-19. All Agtech staff and class instructors have received a COVID-19 vaccination, and Agtech encourages everyone to get vaccinated against COVID-19. However, you are allowed to attend class if you have not received a COVID-19 vaccination.
REQUIREMENT for EVERYONE enrolled in class (vaccinated & non-vaccinated): Each morning before leaving your hotel, assess your health status for the COVID-19 symptoms listed below. If you are experiencing one or several symptoms listed below, you are NOT allowed to attend class. If you attend class and are displaying COVID-19 symptoms, you will be asked to leave class. We will gladly re-register you at no charge into the same class held at a future date.
COVID-19 Symptoms
Fever or chills
Cough
Sore throat
Fatigue
Muscle or body aches
Shortness of breath or difficulty breathing
Headache
New loss of taste or smell
Congestion or runny nose
Nausea or vomiting
Diarrhea
Unfortunately, you cannot tell the difference between flu and COVID-19 by symptoms alone because some of the symptoms are the same.
---
---